Cobble Driveway Broughton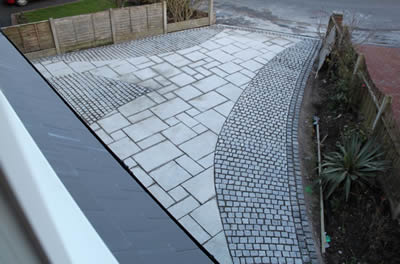 Client Comments:
If you want a quick job, with some nondescript substance and no thought applied done by some 'fly-by-night' operation then Duncan/ is not your man!
His perfectionist tendencies and artistic flare will guarantee you a unique drive to be proud of and admire every day you walk or drive across it. As far as I am concerned this gentleman is a master of his trade. His attention to detail, knowledge of his materials, innovative approach to problem solving (such as stepping) and his workmanship is second to none. His team are dedicated and share the same degree of commitment to customer satisfaction that Duncan insists upon.
To be honest, I believe they all genuinely find pleasure in delivering a cracking result. Many comments were received from admiring neighbours and friends such as 'Beautiful', 'The best drive I have ever seen' and 'I want one' . You are making the right choice by choosing Duncan and his team. I couldn't recommend higher.
Matt and Georgina. Broughton, Preston, Lancs.
Contact Cobble Driveways For A Free Quote Today
Click Here