Stone Cropper Hire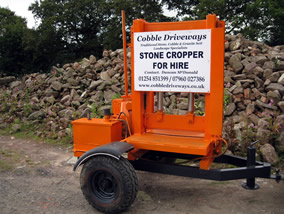 Stone Cropper Available For Hire
Professional stone cropper available for hire by Cobble Driveways.
This stone cropper has a double acting jaw stone cropper and will make light work of cropping your stone.
Available on week day hire with special weekend rate. Delivery & colection charges apply.
Hire Prices:-
£80.00 per day (minimum hire 2 days)
£350.00 per week (based on 5 day hire monday to friday)
£1200.00 per month (based on 4 week month)
Delivery and Collection charges apply
Please click here to contact us about stone cropper hire.